Orit Yeret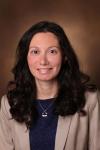 Address:
120 High St, New Haven, CT 06511-6644
Orit Yeret is a new faculty member teaching Modern Hebrew. Born and raised in Israel, she 
received her M.A. in Comparative Literature & Creative Writing from the University of Haifa. 
Following that she became certified to teach Hebrew as a second language (Hebrew College, 
Boston) and taught at Bard College, NY and at Vanderbilt University, TN.
Yeret
also serves as 
a committee member for the SAT subject test in Modern Hebrew, appointed by the College Board. 
A key component of
Orit
's
work is utilizing digital tools for language teaching. She does so by 
designing tasks that use online games, applications, class blogs, animated clips and much 
more. Her engagement with the various tools is always in an effort to enhance learning and 
develop a modern approach towards second language acquisition.
As a teacher and a writer Orit finds a profound interest in the never-ending flow of the 
Hebrew language. She integrates different teaching techniques, which in turn encourage 
individual thought and a thirst for knowledge. She finds great satisfaction in creating, and 
shares her love for the arts with her students.